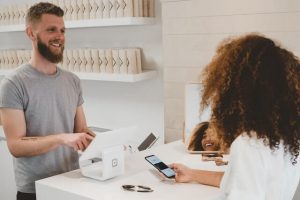 4 ways to create a great customer experience
4 way to create a great customer experience
Do you want to know how to get your customers hooked to your brand? I mean, won't you love to have a repeat customer. The more repeat customer your business earns, the higher the sales.
Here are 4 game changing points to create a great customer experience
1. Think of customer experience holistically
It has become a trend amongst businesses (small to large) to prioritize one touchpoint of their customer's journey over another. Some focus on the customer support/service department and assume that if the staff in that department are doing their best interacting with or resolving customers problems they are giving the best experience.
Well, you have to drop that mindset. The customer support team is just one touchpoint amongst others your customers would interact with.
Therefore, list out all the touchpoints of your customer's journey and ensure each element delivers at the same frequency as others. Let's say you are running an e-commerce business; your customer's journey might look like this;
Viewing your ad or any of your company's content
Visiting your website to search for their need
Placing an order
Payment for an order
Receiving their package
Using the product
 Now, your job is to ensure their interactions are smooth and positive. If they have a difficult time navigating through your website, it could affect their overall experience with your brand. Consistently strive to unite the experience on each level to give a great experience.
Read this to have a broader understanding on customer journey
2. Turn your brand into a human
4 ways to create a great customer experience
You know the way you hang around people that just get you and share similar values with you. Your customers want that experience.
The good old way to bring your brand to live in a human way is by building a brand strategy. In building your brand strategy, you are selecting your brand personality, mission, vision, and understanding your customer jobs, etc. It is like dressing up a mannequin to have a certain look.
After you have built your brand strategy, you would use that guide to craft your communication materials, website design/development, etc.
Another way to bring your brand to life in a human way is using AI, have you ever experienced a product recommendation pop-up or tab while shopping on an e-commerce website. This means as your customers are shopping through your e-commerce site, you can give them a personalized experience through AI.
A detailed insight into how AI is transforming the E-commerce industry
Get your Brand designed by Solid Fiction
3. Capture your customers feedback in real time
4 ways to create a great customer experience
You are most likely reading through this because you are currently working or planning to improve your customer experience.
While you have the attention of your customers which could be before the exit your website or whatever platform they are on, you should get their thoughts on how they felt or how easy it was to find the product they were looking for.
There are several ways to track your customer experience. Tracking their feedback gives you the opportunity to eliminate, improve or add positive touchpoints to create a great experience.
4. Think like your customers
4 ways to create a great customer experience
You need to put yourself in their shoes, if you were in the process of purchasing a product from a brand, how would you want to be treated? What experience would you like?
Asking yourself these questions should already paint an image of what your customers are always expecting.
Your customers want an easy, enjoyable, and seamless process with your brand. They want that all the time.
Giving your customers a great experience has different benefits amongst which is repeat customers. Therefore, let's see how your customer experience can be improved.
Firstly, get rid of the mentality that if my customer service department is doing great then we are offering the best experience. You must look at the concept of customer experience holistically to create an experience your customers would always want. What experience are they having with your company website as they search for a product? How do they feel after interacting with a customer support staff? Did your product deliver it's expected results? Always ensure that all the touch-points of your customer's journey are unified to give a great experience.
Secondly, bring your brand to life in a human way. Creating a brand strategy is one step towards achieving that. A brand strategy can be likened to dressing up a mannequin to communicate something. You can also integrate AI to further give your customers a personalized experience. In this context, a personalized experience is product recommendations as your customers browse through your e-commerce website.
Thirdly, real-time feedback should be adopted. Capturing your customer's feedback in real-time helps you track their present feelings as they interact with your brand.
Furthermore, Become your customer. Ask yourself how you would like to be treated if you were purchasing from your business. Your customers are constantly expecting a seamless, smooth, and enjoyable process with your brand.
Are you going to implement these tips to upgrade your customer experience? Let me know in the comment box?